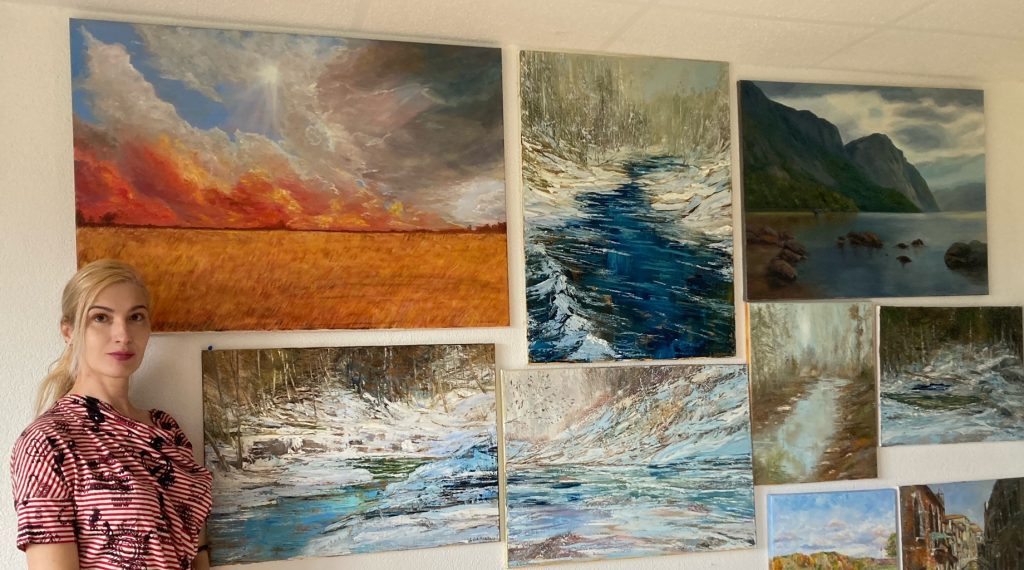 « In my works, I want to capture the beauty, being, and meaning of all things in any of their manifestations. »
Lusie Schellenberg is an award-winning professional artist based in Switzerland, whose paintings have been exhibited nationally, as well as in Germany, Austria, USA, Netherlands, Italy, Russia…The main genres of painting are seascapes, urban landscapes, people and still lifes. The author works mainly in the technique of multi-layered oil painting, observing the historically established technologies of writing, which contributes to the long-term preservation of the original quality of the painting layer. The same traditional approach to painting has been transferred to works with a modern sound. She uses various techniques, such as multi-layered painting, realism, expressionism, modern impressionism in combination with a palette knife, author's technique.. Her characteristic landscapes, seascapes, cityscapes, still lifes and figurative works are created in oil and acrylic on canvas.In his works, the author does not resort to limited stylistics: they can be structured on the verge of abstraction or acquire genre coloring, turning into stories from life. She describes her artistic expression as a reflection of reality as it really is. With her art, Lusie Schellenberg strives to «preserve the pristine beauty of existence"»
Her works were presented at the MAMAG Museum of Modern Art. She is one of the few artists who have been published in TATLER UK magazine,House & Garden Magazine UK.
All my works are made with high-quality materials and ecological paints. I accept work to order. If you like paintings that are sold or want something special, please contact me.
PUBLICATION IN THE PRESS:

TATLER UK

(print and digital edition)
Tatler May 2022
House & Garden UK April 2022
Interview with me The untouched Beauty of all things
https://artbaazar.com/blogs/artists-interviews/the-pristine-beauty-of-all-existence-with-lusie-schellenberg
TALENT PRIZE AWARD

 

in ART SHOW INTERNATIONAL GALLERY's 5th OPEN 2022
Shortlisted for Visual Art Open 2021 

UK & International Emerging Artist Awards.
Lusie Schellenberg is among the 100 artists selected as part of the Thomson Award  the Promotion of ARTBOXY Artists! 2021-2022
Winner of the ARTBOXY art grant. 2021-2022
HONORABLE MENTION AWARD in ART SHOW INTERNATIONAL GALLERY's 4th ABSTRACT 2022
Exhibitions:
Personal and regional exhibitions:
"The World of Beauty", Saratov, 1995
"Peace through the prism", Samara, 1998
"Breathing", Nizhny Novgorod, Kazan, 2004
"I see it this way", Moscow, 2007,
"Nothing but beauty", St. Petersburg, 2010
"Cities" – Karlovy Vary, 2013
"Assorted", Munich, 2016                                                                                                                                                                                                                              Lusie Schellenberg, Los Angeles, USA, 2022                                                                                                                                                                                 ARTBOX.PROJECT World 1.0 2021    January 4 – Juli 31, 2021 / Digital presentation of the participants-Monday – Friday from 9 a.m. to 6 p.m.The address of ARTBOX.GALLERY
Giessereistrasse 1, 8005 Zurich, Switzerland                                                                                                                                                                             ARTBOX.PROJECT Zürich 3.0 (25.08.21-29.08.21) SBB Event Hall ,Hauptbahnhof Zurich — Zurich, Switzerland
Exhibit  Art as self-realization and self-expression in  15th September to 20th December 2021.—in MAMAG Modern Art Museum in royal castle Hubertendorf in Austria Schloss Hubertendorf 1, 3372 Blindenmarkt / Austria http://www.mamag-museum.com/autumn%202021.htm
The exhibition of  winning artwork ART SHOW INTERNATIONAL GALLERY 2.01.2022-31-01.2022 https://www.artshowinternational.com/winners-2022-landscape-4
NEW EXHIBITIONS
LELIE GALERIJ AMSTERDAM NETHERLANDS

Leliegracht 15 1015 Amsterdam The Netherlands  Opening hours

Mo-Fr 9 — 12 / 13-18 1st-April-2022- 31st-May 2022
BIENNALE ARTBOXEXPO VENEZIA ITALY

Tana Art Space at Fodamenta de la Tana 2109A, Venice 8th-March-2022 to 30th-May-2022
URBANSIDE GALLERY ZÜRICH SWITZERLAND

Giessereistrasse 1 8005 Zürich Switzerland ÖFFNUNGSZEITEN MONTAG — FREITAG9:00 — 12:00 / 13:00 — 18:00 1st-April-2022 to 30th-May-2022
THOMSON GALLERY Schmidgasse 4. 6300 Zug, Schweiz Mo — Fr:    09:00 — 12:00 / 13:00-18:00 Uhr ​​Samstag:  nach Vereinbarung
Little Treasures

2022 — Trevisan International Art Exhibition 28 May-8 Juni , Galleria de Marchi,Italy, Bologna, Via Porta Nove 1/10 , Opening hours: 16:00 — 20:00.

Instagram https://www.instagram.com/lusieschell/

You can purchase my paintings here, as well as through galleries:

TRiCERA: https://www.tricera.net/artist/painters/8105541

ARTSY.NET: https://www.artsy.net/artist/lusie-schellenberg/works-for-sale

artner/alessandro-berni-gallery/artists/lusie-schellenberg

SAATCHIART:https://www.saatchiart.com/lusieschellenberg

Parartgon; https://www.parartgon.com/lusieschellenberg

When buying through the website (here)You can pay for the purchase of the painting by bank card or Paypal. Contact me. The paintings are carefully packed and shipped by premium or EMS services.